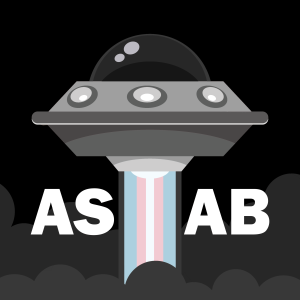 Saturday Nov 05, 2022
Episode 57: Rose Eveleth on the future, Flash Forward, whether you are your brain, and whether to put that brain in a robot
In this episode - recorded almost 18 months ago but still great - we talk to our first and only cis (?) guest: Rose Eveleth, the creator, writer, producer, and host of the podcast Flash Forward (in Charles's estimation, the greatest podcast of all time). We talk about the process behind making Flash Forward, the episodes which we feel speak particularly to The Trans Experience, Rose's attitude towards their gender, the most outrageous guest interview Flash Forward ever had, and the classic question of whether Rose would put their brain in a robot body. 
Flash Forward is coming to a close at the end of this year, but there's a back catalog of seven and a half years of episodes to listen to, and they're all bangers. Rose also worked on a series for Netflix released earlier this year, The Future Of, and the Flash Forward book was released not long before we recorded this episode in 2021. 
A transcript and show notes for this episode are available on our website here: https://asabpodcast.com/2022/11/05/episode-57/
The show is on Twitter @ASABpod, Charles @cockroacharles, and Tessa @spacermase. 
Our intro music is by Nicole Petkovich. 
Thank you for listening!
Comments
(0)
To leave or reply to comments, please download free Podbean or