ASAB is a podcast about science fact and science fiction, hosted by two trans scientists: Tessa (astrobiology) and Charles (entomology). Every other week we talk to each other or with another trans scientist about research, interesting facts, whether aliens can be gay, science fiction, and maybe sometimes about being trans. Transcripts available on our website: asabpodcast.com.
Episodes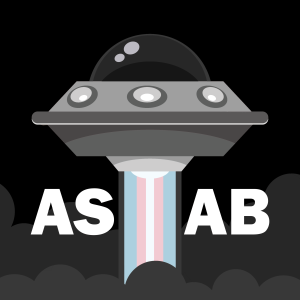 Wednesday Sep 07, 2022
Wednesday Sep 07, 2022
In this episode we use the TNG episode "The Neutral Zone," in which three people from the 20th century are revived from cryopreservation to find themselves on the Enterprise 300 years later, to talk about cryonics. We touch on its history, whether it actually works (no), whether it could work (probably not), whether we'd do it (no way), and, just for fun, a little on the history and philosophy of death as a concept. 
A transcript and show notes for this episode are available on our website: https://asabpodcast.com/2022/09/07/episode-55
The show is on Twitter @ASABpod, Charles @cockroacharles, and Tessa @spacermase. 
Our intro music is by Nicole Petkovich. 
Thank you for listening!