ASAB is a podcast about science fact and science fiction, hosted by two trans scientists: Tessa (astrobiology) and Charles (entomology). Every other week we talk to each other or with another trans scientist about research, interesting facts, whether aliens can be gay, science fiction, and maybe sometimes about being trans. Transcripts available on our website: asabpodcast.com.
Episodes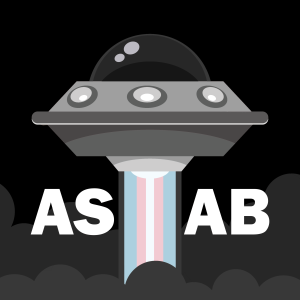 Saturday Apr 23, 2022
Saturday Apr 23, 2022
In this episode we're joined by science superstar (pun intended) Lucianne Walkowicz to talk about their research, who space belongs to (including whether it can "belong" to anyone), and how gay space is. Charles also defends leeches (they probably won't give you diseases!), the animal, but not leeches, metaphor for the capitalist class. 
Lucianne is all over, but can be found on Twitter @RocketToLulu
Show notes (including sources) and a transcript are at our website here: https://asabpodcast.com/2022/04/23/episode-48/
The show is on Twitter @ASABpod, Charles @cockroacharles, and Tessa @spacermase. 
Our intro music is by Nicole Petkovich. 
Thank you for listening!